Reception Cocktail
The reception cocktail will take place in the "Enoteca Italiana" (
http://www.enoteca-italiana.it
), which is at walking distance from the very center of Siena. The address is Via Camollia 72, Siena. You can see below the map to reach such address from Piazza del Campo (the famous central place of Siena). The distance is about 0,9 km.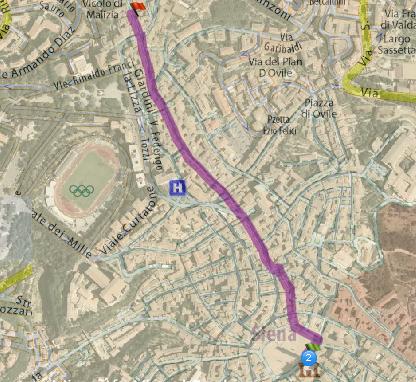 Indications from viamichelin.com site:
Take *Piazza il Campo* (0.1km)
Turn right: *Via di Calzoleria* (0.1km)
Take *Piazza Tolomei* (<0.1km)
Turn right: *Via Banchi di Sopra* (0.1km)
Take *Via dei Montanini* (0.4km)
Take *Via Camollia* (0.2km)
Gala Dinner
The meeting point for the gala dinner will be indicated in a specific invite (with time and address of the meeting point for the bus) that will be given with the conference kit. However, the buses should be leaving from "Piazza Gramsci" bus terminal ("Capolinea" in Italian), which is about 0,7 km from Piazza del Campo. Below you can see a map.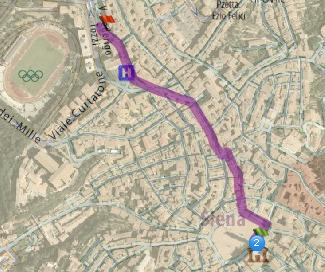 Indications from viamichelin.com site:
Take *Piazza il Campo* (0.1km)
Turn right: *Via di Calzoleria* (0.1km)
Take *Piazza Tolomei* (<0.1km)
Turn right: *Via Banchi di Sopra* (0.1km)
Turn left: *Via Giuseppe Pianigiani* (<0.1km)
Take *Piazza Giacomo Matteotti* (<0.1km)
Continue along: *Via Malavolti* (<0.1km)
Turn left: *Piazza Antonio Gramsci* (<0.1km)