Venue
The conferences will be hosted in the Aula Magna of the University of Siena (50 meters from the "Piazza del Campo" place). The Aula Magna (main hall) is inside the main building of the University in "via Banchi di Sotto 55". You can see the maps below.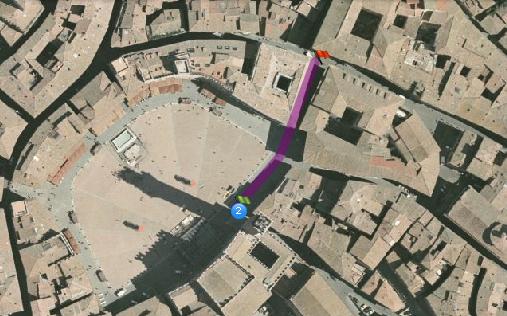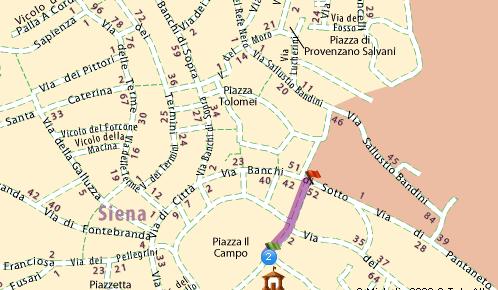 Historical notes
Legend has it that says Siena was founded by Senio, the son of Remus, who was one of the founders of Rome. Several columns are to be found dotted around the city centre topped by a she-wolf suckling twin brothers (Romulus and Remus), recalling Siena
It is certain that Siena began to develop in the Middle Age and spread over three hills, later known as the Terzy (thirds). The city is shaped like an upside-down Y, with the old Via Francigena, which connected Rome and Paris, running through it.
Siena had its greatest period of prosperity in the XIII-XIV centuries, when it was an independent republic and grew to become one of the European capitals of commerce and banking (the latter still being the city's s most important activity).
In this period Sienese art flourished and many famous painters, such as Duccio di Boninsegna and Simone Martini, established schools of painting. This era was also characterised by strong rivalry, especially with neighbouring Florence. One of the most memorable episodes in this struggle was the Battle of Monteaperti (1260), in which the Sienese Ghibellines defeated the Florentine Guelphs.
While a monumental Cathedral was being built in 1348, Siena was hit by the plague and its population was decimated: this marked the beginning of a period of decline, culminating in 1559, when the city lost its independence and became part of the Grand Duchy of Tuscany.
The Gothic style marks the city in both its art and architecture and adds to Siena's special atmosphere, characterised by the use of typical materials such as terracotta bricks and local stone. A great expression of this unique character is the shell-shaped Piazza del Campo, where the City Council has its seat in the Palazzo Pubblico (Town Hall).
By train
from Florence: direct line and/or change at Empoli (1h30')
from Rome: change at Chiusi (3h)
from Pisa: change at Empoli (2h)

The railway station in Siena is about 2 km from the city centre.
By bus

from Florence:
Bus Station: opposite Santa Maria Novella Railway Station
'rapida bus' (1h 15mins)
'diretta bus' (1h 35 mins)
Autolinee TRA-IN spa (tel. +39 0577/204245)
Autolinee SITA (freephone: 800 – 373760)

From Pisa Airport:
Daily shuttle-bus by reservation
Journey time in 2h (price: 14 Euro)
INFORMATIONS: 0577 204246-225-228

from Rome:
Bus Station: Roma Tiburtina, (2h 45m)
SENA (freephone: 800 – 930960, tel. + 39 0577/283203)


By car
From the North:
A1 exit "Firenze Certosa"
Dual carriageway Firenze/Siena (40 min.)
From the South:
A1 exit "Valdichiana" quindi
Bettolle-Siena link road (2h 30min.)


By plane

from Florence:
"Amerigo Vespucci" Airport
Shuttle bus to S. Maria Novella railway station every 45 min

from Pisa:
"Galileo Galilei" Airport (150 km)

Taxi (+39 0577 49222)

Parking
Tourist Information